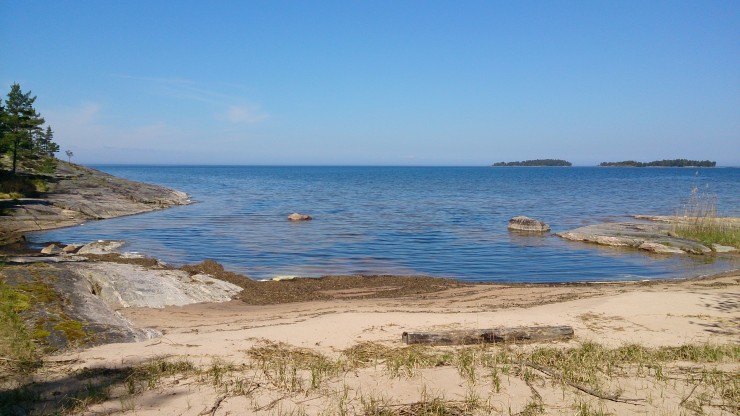 Kayak on your own in the wilderness of the Vänern archipelago
Do you want to explore an unspoiled archipelago with one of the country's highest-density moose population and a rich bird life on your own from a kayak? Vänern Outdoor has fully equipped open sea kayaks that includes everything you need to head out into the unspoiled wilderness. So that you can make the most out of your experience, we begin with a beginner's lesson focusing on handling the kayak by yourself and getting a good paddling technique. Great emphasis is also placed on safety and we will perform some emergency exercises so that you can stay safe.
Based on the weather conditions and your experience and wishes, we will then select a starting point in the Mariestad area. You will then head off on your tour, guided by Vänern Outdoor's map with suggested camping spots, pictures and descriptions of the various places. You will paddle at your own speed and at the end of the tour, we will collect you from a suitable spot.
Vänern Outdoor has sea kayaks from Prijon, Boreal Design and Tahe for one or two people. One-man kayaks have ample storage space for longer trips and the tandem kayaks have a third cockpit to fit extra equipment, a child or a dog.
Minimum of two participants.
The course can be given in Swedish, English or basic German.
Wilderness can have different definitions. We use the concept wilderness to describe larger, unspoiled forest areas with high nature values, where the forest has been spared exploitation due to conservation considerations.
What is included: kayak, paddle, spray skirt, life jacket, pump, float, well-trained instructor for the lesson, tent (1 tent/2 people or a spacious teepee tent for at least four participants), inflatable sleeping mat, sleeping bag with sheets, Trangia stove and sprits (1 stove/2 people), kitchen kit with spices, oil and cleaning products, 2 waterproof packing bags/person, water bottles, plate, cup, cutlery, toilet kit, map with marked camping spots and information, delivery and pick-up of you and the kayak.
Price 2017:
3 days: SEK 2 100/person
4 days: SEK 2 500/person
5 days: SEK 2 900/person
6 days: SEK 3 300/person